Your Southern Holiday

Spend Christmas in Charleston
Stay at the historic Planters Inn during the most magical time of the year, and you'll find merriment around every corner. From special Christmas dinners and an incredible New Year's Eve Celebration to our festively decorated parlor, piazzas adorned with greenery, and a twinkling forest of Palmetto trees in the courtyard, we are pleased to welcome you for a fabulous array of holiday experiences.
---
★★★★★
Christmas in the South
Treasured Holiday Traditions

Experience the Magic and Splendor of Christmas in the South.
Get in the holiday spirit with a visit to one of the South's most iconic hotels located in one of America's most picturesque cities—all decked out with beautiful wreaths, garlands, and delightful light displays. Head to the historic Dock Street Theatre to see A Christmas Carol, cheer for your favorite float or marching band in the city's annual parade, tour historic mansions to discover magnificent 19th-century holiday décor, and much more—all of which is located within a few short blocks of the historic Planters Inn hotel.
★★★★★
THE CHERISHED PENINSULA GRILL TRADITIONS CONTINUE
A Magical Christmas Eve in Historic Charleston

On Christmas Day, the bells of Charleston's historic churches will be ringing joyously, a beautiful sound to welcome guests upon arrival at Peninsula Grill—named one of the nation's "Best Restaurants Open on Christmas" by Travel + Leisure magazine.
★★★★★
COOKIES FOR SANTA, EGGNOG BREAD PUDDING FOR YOU
A Heartwarming Christmas Day

Spend December 24th in the enchanting Peninsula Grill Dining Room with candles aglow and the garden's tea lights twinkling through the windows.
★★★★★
Ring in the New Year with Grand Style
Celebrate the New Year with a Great Getaway

Already have your Christmas at home planned out? Bring in the New Year with a bang! Pack a bag and whisk away to Charleston for an unforgettable New Year's Eve.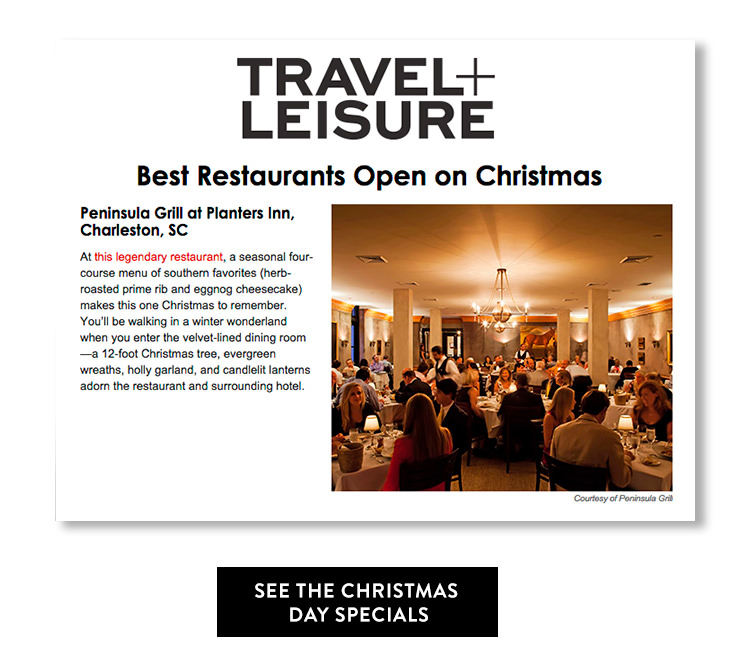 Reserve Your Stay
Please note, when making a Planters Inn Reservation, the concierge will happily assist with securing seats at Peninsula Grill's grand New Year's Eve Celebration.
Your Charleston getaway awaits.