The Grande Dame of Hotels in Charleston
When Planters Inn was built in 1844, it secured the best location possible of all Charleston hotels. Today, the iconic Relais & Châteaux four-star hotel famously presides over Market & Meeting streets — the true heart of the Historic District.
Celebrate Labor Day at Planters Inn.
Reopening September 3, 2020
---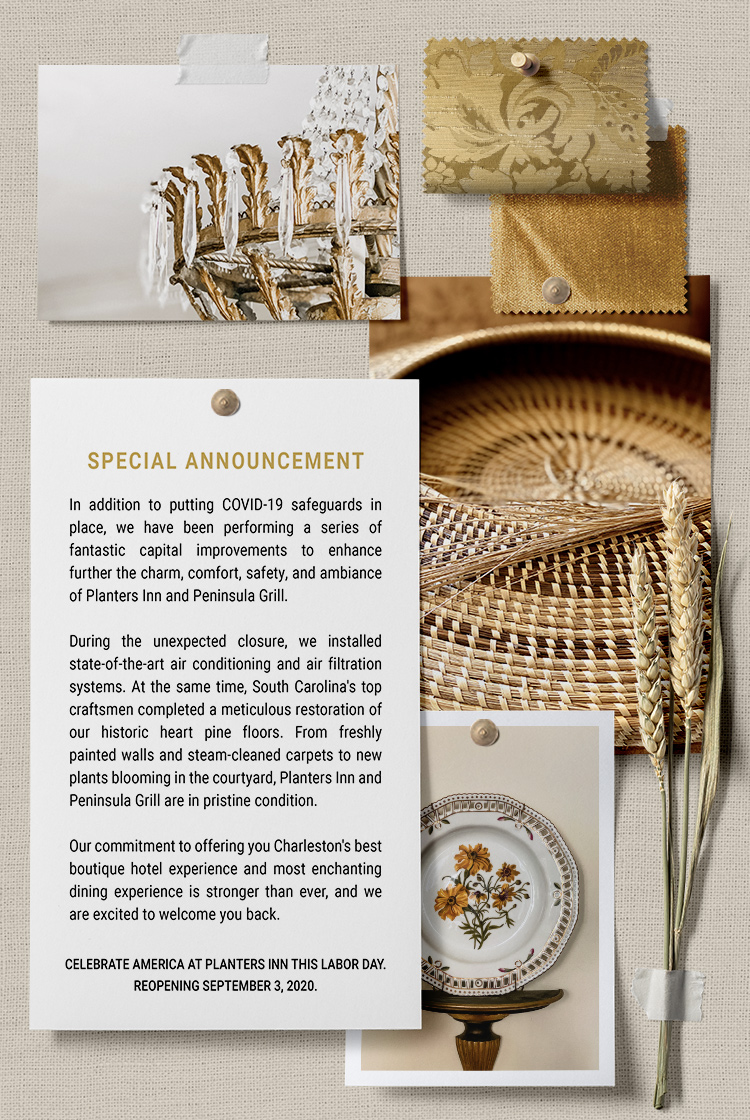 "Staying at Planters Inn is akin
to an overnight with well-to-do friends
in their old Charleston mansion."
—Travel + Leisure magazine
★ ★ ★ ★ ★
Welcome Home.
Planters Inn is the epitome of timeless elegance and refined Southern style. Our luxury boutique hotel is beautiful to behold with a dozen exquisitely preserved fireplaces, spectacular four-poster beds from Baker's Historic Charleston Collection, silk window dressings, sweeping piazzas, and a hidden garden courtyard.
★ ★ ★ ★ ★
Travel + Leisure Magazine's #1 Best U.S. Boutique Hotel Award-Winner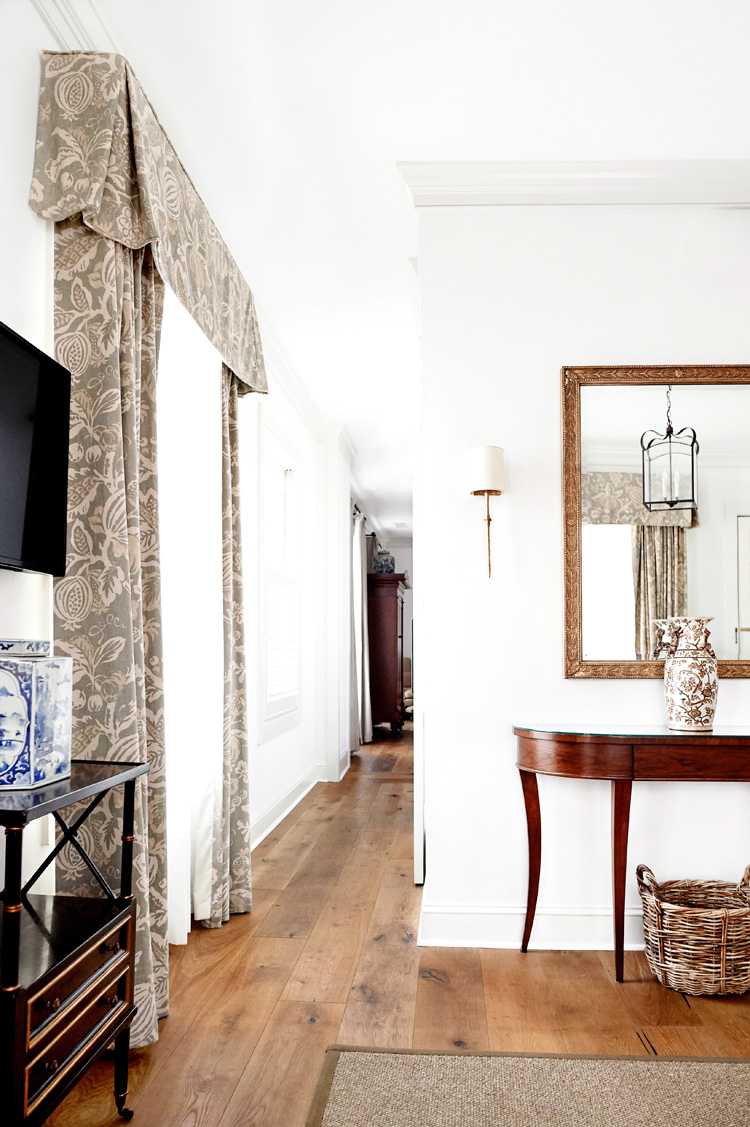 STAY IN STYLE
New Hotel Suites
The Planters Inn is more glamorous than ever. We recently ushered in a new era of style and sophistication with some of the largest suites offered by any hotel in Charleston, South Carolina. Be among the first to discover these new luxury Charleston hotel accommodations.
★ ★ ★ ★ ★
"Stepping off bustling North Market Street into the Planters Inn is like stumbling upon your own secret oasis. The immediate calm of the elegant lobby is merely a precursor to the tranquility of the garden courtyard, where, enchanted amid the lush greenery, you are likely to forget you have a hotel suite waiting to be explored."
— Atlanta magazine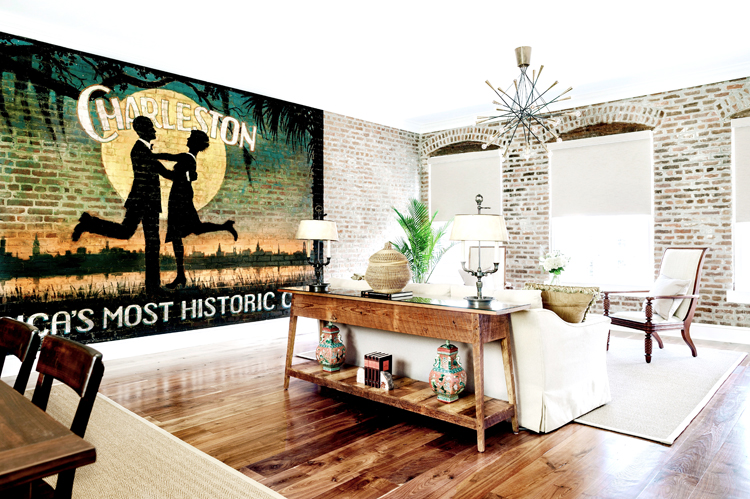 The St. Philip Suite
One Charleston's best-kept secrets, the new St. Philip Suite is situated on the top floor of the hotel and designed to feel like a private 1,460-square-foot pied-a-terre in the heart of the Historic District.
Reading Room - Living Room - Bedroom - Dining Area and Kitchen - Spacious Bathroom - Three flat screen televisions - Dining Table with Seating for 10 People - Full-Sized Refrigerator - Dishwasher - Microwave - Coffee Machine - Plush Sofa - Four Poster King Bed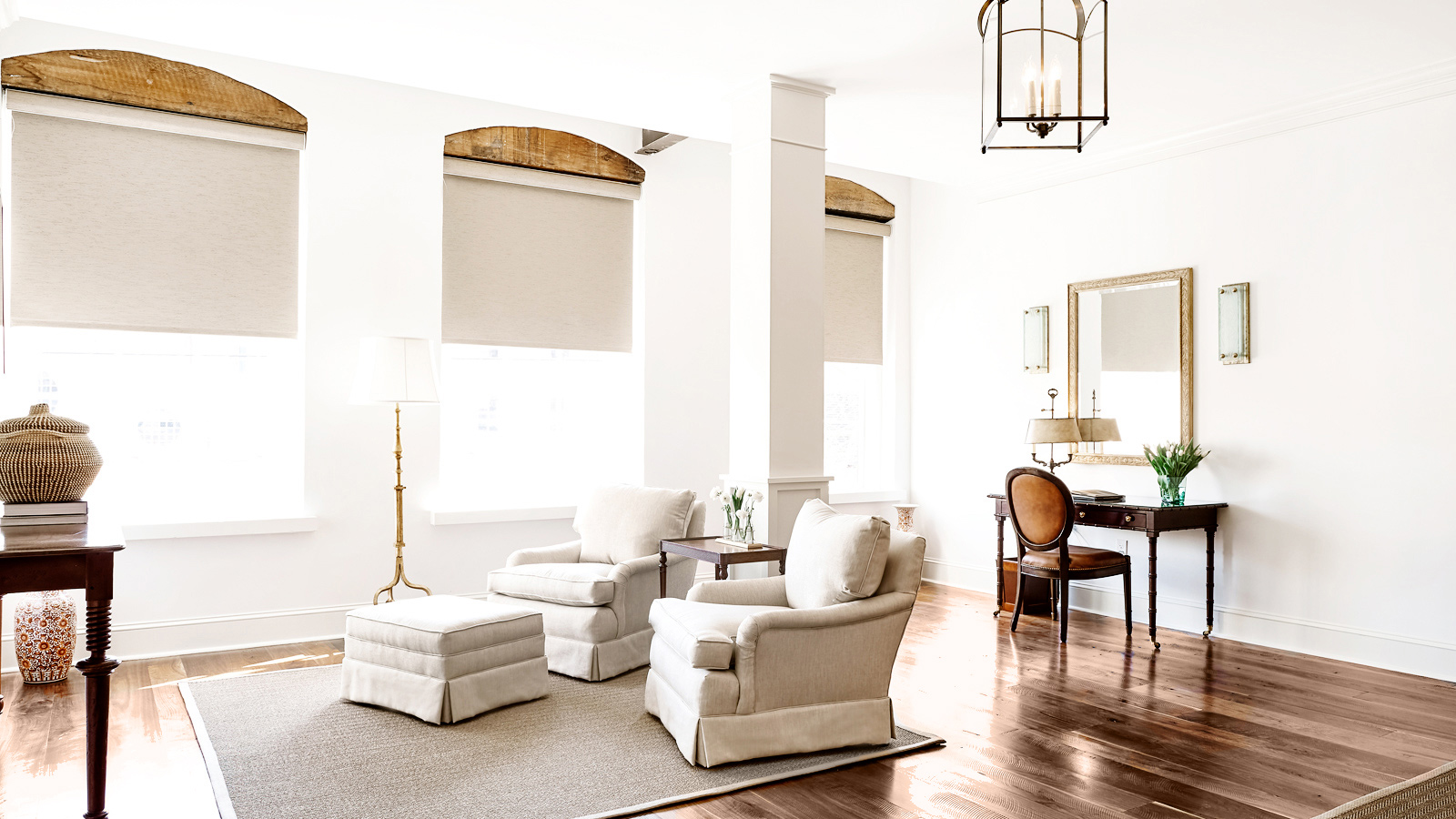 The City Market Suite
A majestic suite with a distinguished Southern style that perfectly blends the present with the past and offers views of America's oldest public market.
Reading Room - Living Area - Bedroom - Dressing Room with Dual Closets - Spacious Bathroom - Two Flat Screen Televisions - Plush Seating - Four Poster King Bed - Coffee Machine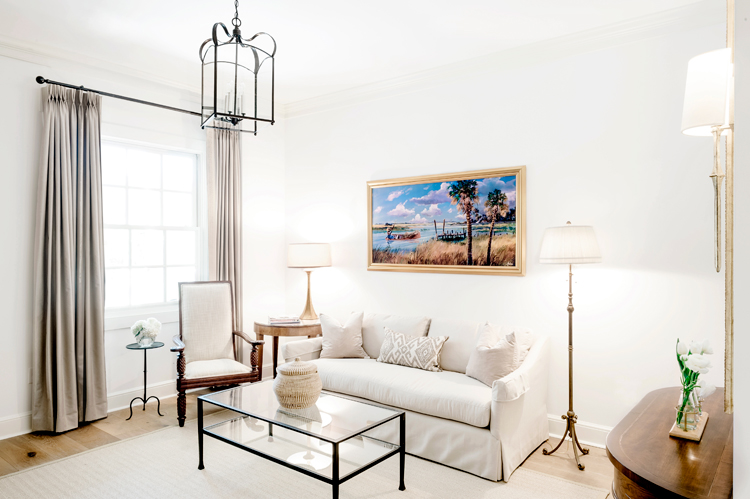 The Garden Courtyard Suite
Generously sized, residentially styled one-bedroom suite with piazza views of the courtyard.
Living Room - Bedroom - Sparkling Bathroom - Flat Screen TV - Four Poster King Bed - Coffee Machine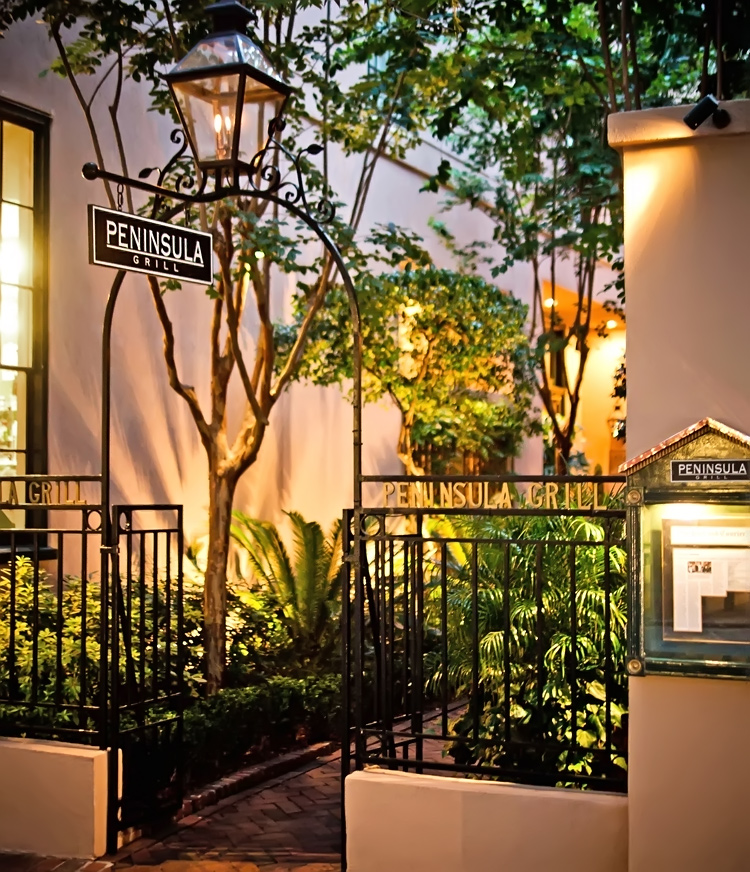 EXQUISITE DINING
Enchanted Charleston Evenings
There's also more to Planters Inn than meets the eye: A garden path illuminated by flickering lanterns provides the resplendent, one-of-a-kind arrival to the renowned Peninsula Grill, the most romantic restaurant in Charleston.
★ ★ ★ ★ ★
"Most Charlestonians agree Peninsula Grill epitomizes fine dining. The velvet-lined walls and sundry antebellum portraits set a cultivated mood without feeling stuffy, and the food is sublime. A petite but elegant bar is known for its seasonal Meyer Lemon Bourbon, Planters Punch, rare vintages of champagne, and broiled oysters."
— Conde Nast Traveler magazine
"The Peninsula Grill at Planters Inn is a Holy City institution that matches faultless, polished service with a menu packed with refined continental favorites, including baked Oysters Rockefeller, sizzling steaks, and last but not least, the legendary ultimate coconut cake. (Imagine 12 alternating layers of moist, buttery cake and fluffy coconut filling–all of which is finished with a thick layer of cream cheese frosting and toasted coconut flakes.) "
— Forbes magazine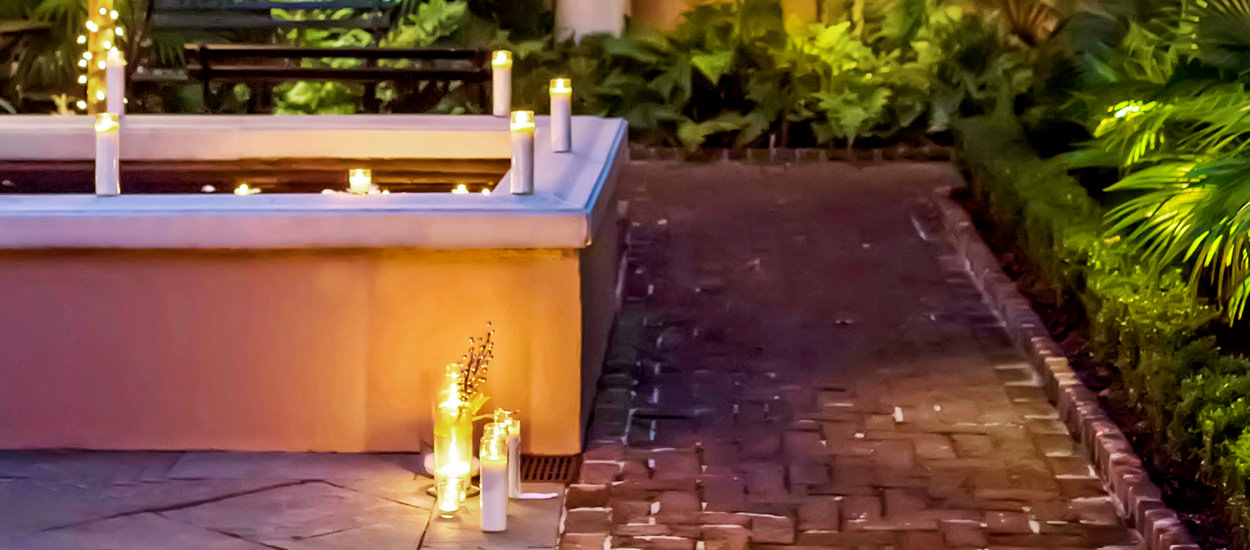 DISCOVER WHAT AWAITS
See & Be Seen
Want to see photos of our hotel in Charleston? Take a tour of our gallery to discover some of the lovely Lowcountry traditions that permeate the historic hotel, including sweetgrass baskets, four-poster plantation beds, Audubon prints, sweeping piazzas, Baker Historic Charleston furnishings, carriage lanterns, and more!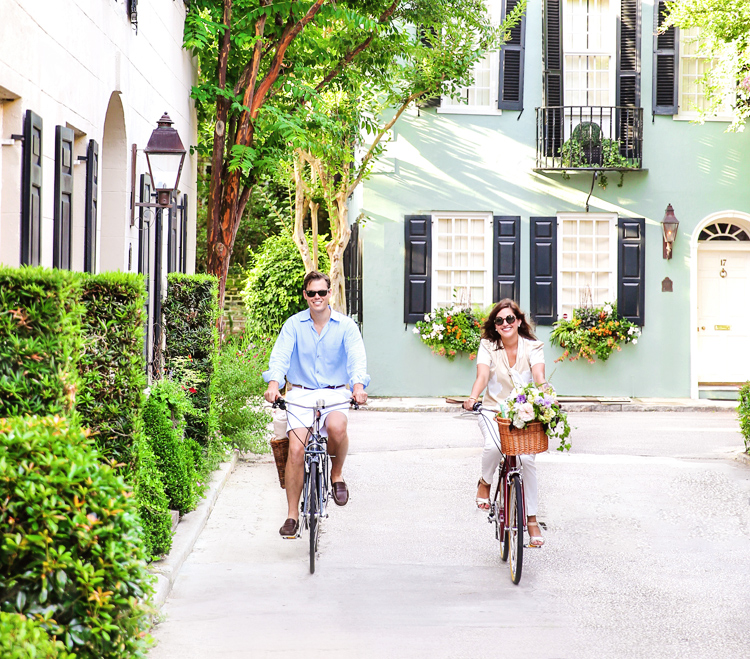 THINGS TO DO & SEE
Explore Charleston
You will soon discover Planters Inn is the best place to stay in Charleston thanks to our premier Charleston Historic District location. As a point of reference: Planters Inn overlooks the Charleston City Market, and King Street is only one block away.
Ask the concierge for a map of Charleston. You will see that the most scenic neighborhoods, the most popular attractions, and the best things to do are within walking distance of the hotel.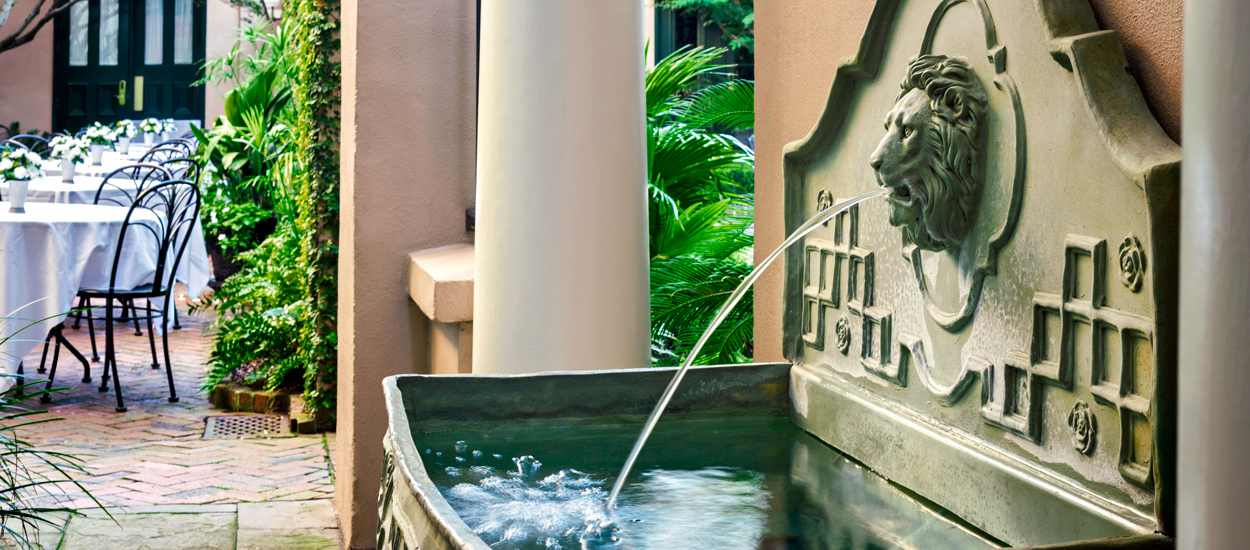 ART DE VIVRE
Southern Charm & Cuisine
Established in France in 1954, Relais & Châteaux is an exclusive collection of privately-owned landmark hotels and renowned restaurants located in the world's most romantic, most cultured, and most memorable destinations.
Planters Inn is the only Charleston SC hotel to be a member of Relais and Châteaux. Fellow members include Blackberry Farm (TN), The Surrey Hotel (NY), Daniel (NY), Eleven Madison Park (NY), The Wauwinet (MA), Ocean House (RI), Auberge du Soleil (CA), The French Laundry (CA), and The Little Nell (CO), among others.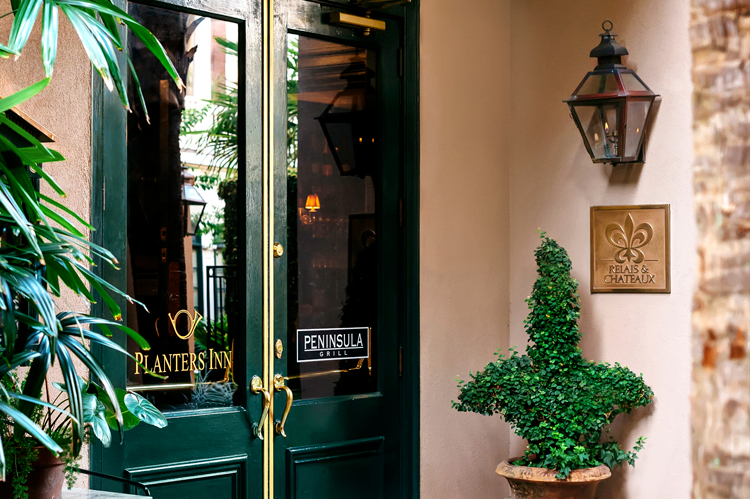 LET'S BE SOCIAL
Stay in the Know
Receive special travel offers and insider tips on what's new at our hotel in Charleston when you sign up for our eNewsletter.